Carbo Vegetabilis - Stool symptoms
Vegetable Charcoal, Carbo Veg, Carboveg,Charcoal, Carbo-v
HPUS label indication: Exhaustion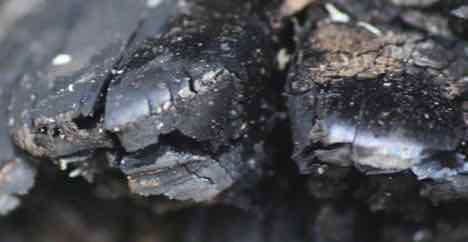 Below are the strongest indications of Carbo Vegetabilis in traditional homeopathic usage, not reviewed by the FDA.
BETTER, from eructation,
From fanning,
cold.
WORSE, evening; night and open air; cold; from fat food, butter,
Coffee
, milk, warm damp weather;
Wine.Relationships
Antidotes: Spirits Nitre;
Camph
.;
Ambra
;
Arsenic
.
Compare:
Carboneum
- Lamp black ( Spasms commencing in tongue, down trachea and extremities. Tingling sensation.)
Lycop.
;
Ars
.;
China
.
Complementary:
Kali-carb
.;
Dros
.
STOOL
Black
Bloody
Brown
Clinging
Containing pus
Copious
Dark
Dark; normal consistency
Frequent
Green
Grey
Hard
Light-coloured
Mucous, slimy
Mucous, slimy;
covered with mucus
Mushy
Odour; like a dead body
Scanty
Small (see long and narrow)
Soft
Stringy
Strong and sharp (acrid), corrosive, wearing away skin
Thin, liquid
Thin, liquid;
normal consistency
Watery
White; milk like
Yellow
Buy Carbo Vegetabilis

Homeopathic remedies are prescribed on the basis that in a tiny dilution like cures like, so while the very dilute homeopathic remedy may help, the raw product is often best avoided.
Sources
Entries on a white background are from Boericke's Materia Medica. Entries on a green background are from a reversed Kent's repertory, with some alterations to modernise the language. Uses are based on traditional homeopathic practice and have not been reviewed by the FDA.