St. John's-wort, Hypericum, Hypericum Perfoliatum, Hypericum perforatum, millepertuis



Available
in 2C-30C, 200C, 3X-30X, 200X, 1M-50M, CM from $6.50
Purchase options
HPUS indication: Shooting pain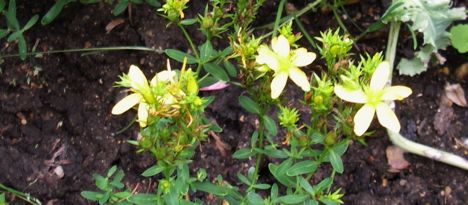 Homeopathic remedies are prescribed on the basis that in a tiny dilution like cures like, so while the very dilute homeopathic remedy may help, the raw product is often best avoided.
Below are the strongest indications of Hypericum Perforatum in traditional homeopathic usage, not reviewed by the FDA.
EYE
Eye
Discoloration; redness; morning; 4 a.m.
Distorted; during sleep
Growth, tumour; sty; left eye
sty; lower lid
Pain
eyebrows
right
night
burning, smarting, gnawing, biting
corner
sore, bruised, tender
stitching, sudden, sharp
extending backward
tearing
evening
Pupils; dilated
Staring
Tension
lids
Weak
Vision
Dim
Long-sighted (near objects blurred); evening
Weak (see eyes, weak)
≡ more ...