St. John's-wort, Hypericum, Hypericum Perfoliatum, Hypericum perforatum, millepertuis
HPUS indication: Shooting pain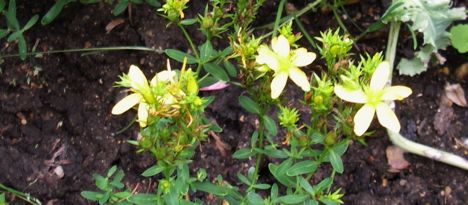 Homeopathic remedies are prescribed on the basis that in a tiny dilution like cures like, so while the very dilute homeopathic remedy may help, the raw product is often best avoided.
Below are the strongest indications (i.e. symptoms) of Hypericum Perforatum in traditional homeopathic usage, not reviewed by the FDA.
< < Hypericum Perforatum - main page
FACE
Face
Bloated (see swelling, congestion)
Expression; suffering
Heat
afternoon
sensation of heat
lips
Motions of jaw; lockjaw
Lips; dryness
Pain
afternoon
evening
jaw; joint
burning (see heat)
pulling
chin
Skin; discoloration; red
itching (see skin); cheeks
out-breaks on skin; crusty, scabby
yellow
around mouth
nose
out-breaks on skin; red
tension of skin
Swelling
Tingling
≡ more ...