St. John's-wort, Hypericum, Hypericum Perfoliatum, Hypericum perforatum, millepertuis



Available
in 2C-30C, 200C, 3X-30X, 200X, 1M-50M, CM from $6.50
Purchase options
HPUS indication: Shooting pain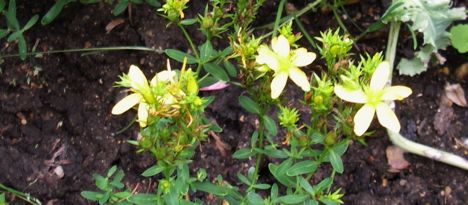 Homeopathic remedies are prescribed on the basis that in a tiny dilution like cures like, so while the very dilute homeopathic remedy may help, the raw product is often best avoided.
Below are the strongest indications of Hypericum Perforatum in traditional homeopathic usage, not reviewed by the FDA.
GENITALS
Genitals
Male; thick emission from penis; while lying on back
Female; inflammation; indurated (hard from inflammation); womb; cervix; after use of pessary
inflammation; womb
inflammation; vagina
period; copious
period; frequent
period; late
period; painful; and difficult (dysmenorrhea)
pain; pains after giving birth
Urethra (urinary part of genitals); hardness
pain; on urging to urinate
pain; soreness
≡ more ...