St. John's-wort, Hypericum, Hypericum Perfoliatum, Hypericum perforatum, millepertuis
HPUS indication: Shooting pain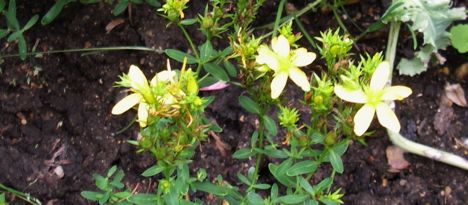 Homeopathic remedies are prescribed on the basis that in a tiny dilution like cures like, so while the very dilute homeopathic remedy may help, the raw product is often best avoided.
Below are the strongest indications (i.e. symptoms) of Hypericum Perforatum in traditional homeopathic usage, not reviewed by the FDA.
< < Hypericum Perforatum - main page
INJURIES AND ACCIDENTS
Injuries and accidents
Injuries in general
Injuries of nerves with great pain
Shock from injury
Stings of insects
Wounds; bites of poisonous animals
crushed and lacerated finger ends
painful
penetrating wounds
of palms and soles
from splinters
≡ more ...