St. John's-wort, Hypericum, Hypericum Perfoliatum, Hypericum perforatum, millepertuis



Available
in 2C-30C, 200C, 3X-30X, 200X, 1M-50M, CM from $6.50
Purchase options
HPUS indication: Shooting pain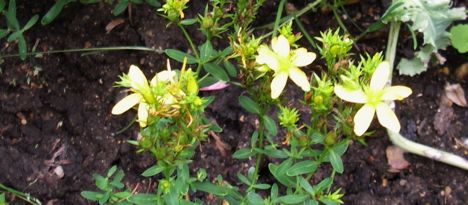 Homeopathic remedies are prescribed on the basis that in a tiny dilution like cures like, so while the very dilute homeopathic remedy may help, the raw product is often best avoided.
Below are the strongest indications of Hypericum Perforatum in traditional homeopathic usage, not reviewed by the FDA.
MOUTH
Mouth
Discoloration; tongue; white
tongue; yellow
Dryness
Heat
5 p.m.
Pain; gums; after extraction of teeth
burning, raw and smarting
sore; tongue; from lacerated wounds
Saliva; mucus, slime; after eating
Speech; unable to speak; from soreness of lacerated tongue
Taste; bad
bitter-sweet; bloody
flavourless
Tongue; lacerated tongue
Teeth; injuries to dental nerves
pain
night
lying on painful side
movement
comes on suddenly (see intermittent)
pulling
jerking
tearing
tearing; morning
tension
≡ more ...