St. John's-wort, Hypericum, Hypericum Perfoliatum, Hypericum perforatum, millepertuis
HPUS indication: Shooting pain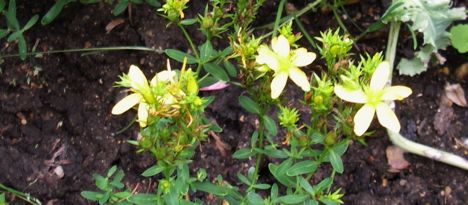 Homeopathic remedies are prescribed on the basis that in a tiny dilution like cures like, so while the very dilute homeopathic remedy may help, the raw product is often best avoided.
Below are the strongest indications (i.e. symptoms) of Hypericum Perforatum in traditional homeopathic usage, not reviewed by the FDA.
< < Hypericum Perforatum - main page
SKIN
Skin
Hyperidrosis, sweating of scalp, worse in morning after sleep; falling of hair from injury; eczema of hands and face, intense itching, eruption seems to be under the skin
Herpes zoster
Old ulcers or sores in mouth when very sensitive
Lacerated wounds with much prostration from loss of blood.
Abnormal growths; ulcers; discharges; offensive
ulcers; phagedenic (spreading, obstinate ulceration)
Like insects crawling on skin
Itching; undressing
Numbness
Out-breaks on skin; crusty; yellow
Scars; become painful
Stings of insects
≡ more ...