Hypericum Perforatum - Throat symptoms
St. John's-wort, Hypericum, Hypericum Perfoliatum, Hypericum perforatum , millepertuis
HPUS label indication: Shooting pain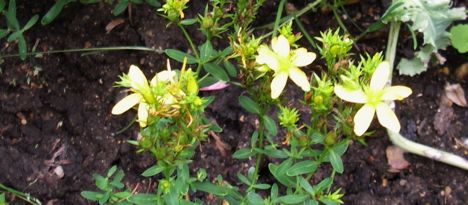 Below are the strongest indications of Hypericum Perforatum in traditional homeopathic usage, not reviewed by the FDA.
BETTER, bending head backward.
WORSE, in cold; dampness, in a FOG; in close room; least exposure; touch.
Relationships
Compare:
Ledum
(punched wounds and bites of animals);
Arnica
;
Staphis
.;
Calen
.;
Ruta
;
Coff
.
Antidotes:
Ars
.;
Cham
.
Dose
Tincture, to third potency.
THROAT
External throat; pulsation; artery
External throat;
swelling
Feels hot
Irritation; larynx
Pain; on sneezing
Sensation of something in throat; crawling
Sensation of something in throat;
crawling; as if worm were squirming in throat
Swelling; sensation of gullet swelling
Voice; hoarseness
Buy Hypericum Perforatum

Homeopathic remedies are prescribed on the basis that in a tiny dilution like cures like, so while the very dilute homeopathic remedy may help, the raw product is often best avoided.
Sources
Entries on a white background are from Boericke's Materia Medica. Entries on a green background are from a reversed Kent's repertory, with some alterations to modernise the language. Uses are based on traditional homeopathic practice and have not been reviewed by the FDA.