St. John's-wort, Hypericum, Hypericum Perfoliatum, Hypericum perforatum, millepertuis
HPUS indication: Shooting pain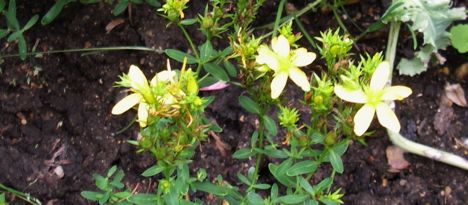 Homeopathic remedies are prescribed on the basis that in a tiny dilution like cures like, so while the very dilute homeopathic remedy may help, the raw product is often best avoided.
Below are the strongest indications (i.e. symptoms) of Hypericum Perforatum in traditional homeopathic usage, not reviewed by the FDA.
< < Hypericum Perforatum - main page
THROAT
Throat
Sensation of something in throat; crawling
crawling; as if worm were squirming in throat
Feels hot
Irritation; larynx
Pain; on sneezing
sore; sneezing
Swelling; sensation of gullet swelling
Voice; hoarseness
External throat; pulsation; artery
swelling
≡ more ...