Pulsatilla, Pulsatila, Pratensis, Wind Flower, Pulsat, Pasque Flower
HPUS indication: Weeping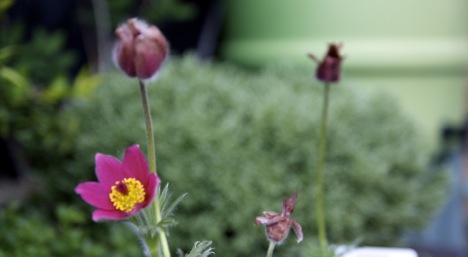 Homeopathic remedies are prescribed on the basis that in a tiny dilution like cures like, so while the very dilute homeopathic remedy may help, the raw product is often best avoided.
Below are the strongest indications (i.e. symptoms) of Pulsatilla in traditional homeopathic usage, not reviewed by the FDA.
< < Pulsatilla - main page
FEVER AND CHILL
Fever and chill
Chilliness, even in warm room, Without thirst
Chilly with pains, in spots, worse evening
Chill about 4 P.M
Intolerable burning heat at night, with distended veins; heat in parts of body, coldness in other
One-sided sweat; pains during sweat
External heat is intolerable, veins are distended
During apyrexia, headache, diarrhoea, loss of appetite, nausea.
Noon
Afternoon
Afternoon; after dinner
following heat
3 p.m., lasting until bed time
Evening
continuing all night
after lying down
with the pains
at sunset
in a warm room
Night
before midnight
In the open air
Open air
exercise in open air
walking in the open air
On going into the cold air; from a warm room
Running upwards
In bed
rising from bed
when turning over in bed
Bed
Beginning in particular area; ankles
back
buttocks
face
feet
fingers; tips of fingers
hands
knees
legs
neck
sacrum (base of spine)
navel
Changing type
Chilliness (see also whole body; temperature)
temperature); evening
while walking
temperature); during intermission of fever
temperature); before period
temperature); during period
temperature); with pain
temperature); with perspiration
temperature); before stool
temperature); after urination
temperature); when in a warm room
more in a warm room than in the open air
From coughing
Creeping; evening
night
in a warm room
With disordered stomach
Drinking
After eating
Eating warm things
When not careful what is eaten
From emotions; from fright
External; afternoon
with sensation as if the hair were standing on end
in spots
When heated, overheated
Internal
night; in a warm room
In women; before period
during period
after period
After movement
Movement
With pain
Periodic, recurring; recurring daily
recurring daily; twice
recurring every third day
twice
every fourth day
double
every fourteenth day
every twenty-eighth day
irregular
Dangerously cold
With perspiration
after chill
With fever, but chill predominating
afternoon
evening
long lasting chill; with little heat, no thirst
On rising up
Shaking, shivering, rigors
late morning
with hair standing on end
with heat
long-lasting (see succession of stages, fever)
little heat, no thirst
partial
Sides, one-sided
right
numbness
Single parts
During sleep
After sleep
Before stool
During stool
Stormy weather
At certain time of day or night; from 1 a.m.
from 2 a.m.
from 8 a.m.
from 10 a.m.
from 11 a.m.
from 1 p.m.
to 2 p.m.
from 2 p.m.
from 3 p.m.
to 4 p.m.
from 4 p.m.
from 5 p.m.; to 6 p.m.
from 6 p.m.
from 7 p.m.
Touch
Trembling and shivering
When uncovering, undressing
Uncovering, undressing
Before urination
During urination
After urination
Violent chill; with delirium
with unconsciousness
On waking
Warm room
In warmth; in warm room; not relieved in warm room, nor by a warm heater
in warm weather
Warmth is unbearable
Sensation of cold water; dashed over him
Morning; in bed
Afternoon
after lying down
2 p.m.
followed by chill at 4 p.m.
Evening
lasting all night
on entering the room
7 p.m.
Night
dry burning heat
with perspiration
before midnight
Alternating with chills
perspiration
Autumn
In bed (see night and warmth)
Localised; stomach (gastric fever)
upper body
Burning heat
afternoon
evening
night
intolerable burning heat in bed
before midnight
with swollen blood vessels
Attacks changing
after poisoning by quinine
frequently
no two attacks are alike
Fever without chill
afternoon
2 p.m.
4 p.m.; lasting all night
evening
night
before midnight
With chill
With chilliness
With external coldness
Continued fever
afternoon
evening
night
Coughing increases the heat
Dry heat
evening
swollen veins and burning hands that seek out cool places
night
Fever with skin out-break; measles
External heat
Hectic fever
Infectious fevers
Inflammatory fever
Intense heat
with delirium
Internal heat
evening
with external chill
Fever from irritation
Movement
Comes on suddenly; increasing in severity
irregular
long chill, little heat, no thirst
No perspiration
Perspiration with heat
Remittent
evening
night
Septic fever (see infectious, continued, from childbirth, etc.)
With shivering
One-sided
right
one side of the body, the hand and foot are red and cold, on the other they are hot in evening and at night
Heat comes on during sleep
Heat comes on after sleep
Standing
During stool
Stages of chill, heat and sweat; chill followed by heat
chill followed by heat, then sweat
chill followed by heat, with sweat
heat followed by chill
heat alternating with chill, then with sweat
chill, then sweat with heat
Summer, hot season
In heat of sun
Uncovering
Aversion to uncovering
Desire to uncover
Vomiting
Walking in open air
Warmth
covering
warm room
Washing
Winter
In women; before period
from childbirth
from suppressed after-birth
≡ more ...