Pulsatilla, Pulsatila, Pratensis, Wind Flower, Pulsat, Pasque Flower
HPUS indication: Weeping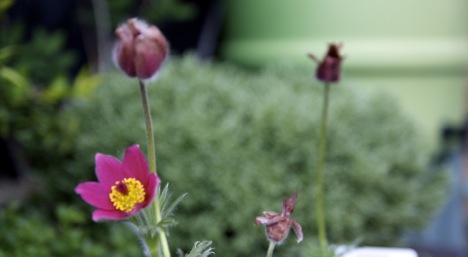 Homeopathic remedies are prescribed on the basis that in a tiny dilution like cures like, so while the very dilute homeopathic remedy may help, the raw product is often best avoided.
Below are the strongest indications (i.e. symptoms) of Pulsatilla in traditional homeopathic usage, not reviewed by the FDA.
< < Pulsatilla - main page
GENERAL
General
The weather-cock among remedies.
The disposition and mental state are the chief guiding symptoms to the selection of Pulsatilla Pulsatilla. It is pre-eminently a female remedy, especially for mild, gentle, yielding disposition. Sad, crying readily; weeps when talking; Changeable, contradictory. The patient seeks the open air; always feels better there, even though he is chilly. Mucous membranes are all affected. Discharges thick, bland, and yellowish-green. Often indicated after abuse of Ferrum Met Iron tonics, and after badly-managed measles. Symptoms ever changing. thirstless, peevish, and chilly. When first serious impairment of health is referred to age of puberty. Great sensitiveness. Wants the head high. Feels uncomfortable with only one pillow. Lies with hands above head.
Dose
Third to thirtieth attenuation.
≡ more ...