Pulsatilla Nigricans - Injuries And Accidents symptoms
Pulsatilla, Pulsatila, Pratensis, Wind Flower, Pulsat, Pasque Flower, Pulsatilla
HPUS label indication: Weeping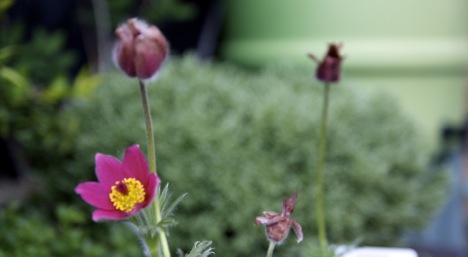 Below are the strongest indications of Pulsatilla Nigricans in traditional homeopathic usage, not reviewed by the FDA.
BETTER, open air, motion, cold applications, cold food and drinks, though not thirsty.
WORSE, from heat, rich fat food, after eating, towards evening, warm room, lying on left or on painless side, when allowing feet to hang down.
Relationships
Penthorum
, often indicated after
Pulsatilla
in later colds.
Ionesia asoca -
Saraca indica - (
Amenorrhoea,
pain).
Artiplex (
Uterine symptoms, amenorrhoea; hysteria, coldness between shoulders, dislike of warm food, craves strange foods, palpitation, sleeplessness).
Pulsatilla Nultaliana
, identical effects.
Compare:
Cyclamen
;
Kali-bich
.;
Kali-sulph
.;
Sulphur
.
Pimenta
- Allspice - (one-sided neuralgias, parts of body hot and cold).
Anagyris
(headache, amenorrhoea).
Complementary:
Coffea
;
Chamom.
;
Nux
.
Dose
Third to thirtieth attenuation.
INJURIES AND ACCIDENTS
Bruises
Injuries in general
Injuries of glands
Injuries of soft parts
Poisoning
Poisoning; iron poisoning
Poisoning;
poisoning by mercury
Poisoning;
poisoning by quinine
Poisoning;
poisoning by sulphur
Wounds
Wounds;
effects of wounds on other parts (constitutional)
Buy Pulsatilla Nigricans

Homeopathic remedies are prescribed on the basis that in a tiny dilution like cures like, so while the very dilute homeopathic remedy may help, the raw product is often best avoided.
Sources
Entries on a white background are from Boericke's Materia Medica. Entries on a green background are from a reversed Kent's repertory, with some alterations to modernise the language. Uses are based on traditional homeopathic practice and have not been reviewed by the FDA.