Stellaria Media
Chickweed, Stellaria



Available
in 2C-30C, 200C, 2X-30X, 200X, 1M, Q from $6.50
Purchase options
HPUS indication: Sluggish in morning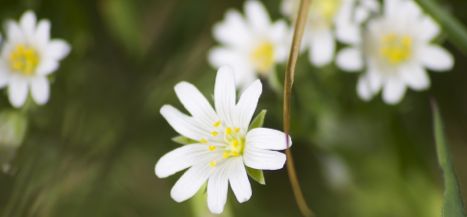 Homeopathic remedies are prescribed on the basis that in a tiny dilution like cures like, so while the very dilute homeopathic remedy may help, the raw product is often best avoided.
Below are the strongest indications of Stellaria Media in traditional homeopathic usage, not reviewed by the FDA.
General
Induces a condition of stasis, congestion, and sluggishness of all functions. Morning worse.
Sharp, Shifting, rheumatic pains in all parts very pronounced. Rheumatism; darting pains in almost every part; stiffness of joints; parts sore to touch; worse motion. Chronic rheumatism. shifting pains ( Puls.; Kali-sulph.) Psoriasis. Enlarged and inflamed gouty finger joints.
Dose
Tincture, externally. Internally, 2x potency.
≡ show all authors ...
Head
General irritability
Lassitude, indisposition to work
Smarting and burning in eyes, feel protruded
Dull, frontal headache; worse in morning and left side with sleepiness
Neck muscles stiff and sore
Eyes feel protruded.
≡ more ...
Abdomen
Liver engorged, swollen, with stitching pain and sensitive to pressure
Clay-colored stools
Hepatic torpor
Constipation or alternating constipation and diarrhoea.
≡ more ...
Extremities, limbs
Rheumatoid pains in different parts of the body
Sharp pain in small of back, over kidneys, in gluteal region, extending down thigh
Pain in shoulders and arms
Synovitis
Bruised feeling
Rheumatic pains in calves of legs.
≡ more ...