Arbor Vitae, Thuja, Thuya, Thuja Occidentalis, Thuya occidentalis



Available
in 2X-30X, 200X, 2C-30C, 200C, 1M-50M, CM, Q from $6.50
Purchase options
HPUS indication: Warts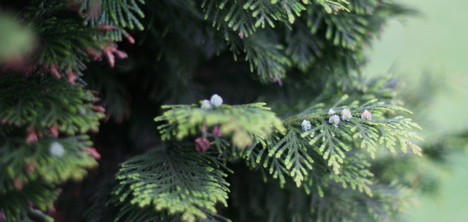 Homeopathic remedies are prescribed on the basis that in a tiny dilution like cures like, so while the very dilute homeopathic remedy may help, the raw product is often best avoided.
Below are the strongest indications of Thuja in traditional homeopathic usage, not reviewed by the FDA.
GENERAL
General
Acts on skin, blood, gastro-intestinal tract, kidneys, and brain. Its relation to the production of pathological vegetations condylomata, warty excrescences, spongy tumors is very important. Moist mucous tubercles. Bleeding fungus growths. Naevus. Excess of venosity.
The main action of Thuja Occidentalis is on the skin and genito-urinary organs, producing conditions that correspond with Hahnemann's sycotic dyscrasia, whose chief manifestation is the formation of wart-like excrescences upon mucous and cutaneous surfaces - fig-warts and condylomata. Has a specific antibacterial action, as in gonorrhoea and vaccination. Sycotic pains, i.e., tearing in muscles and joints, worse at rest, better in dry weather, worse damp humid atmosphere; lameness.
Hydrogenoid constitutions,
whose blood is morbidly hydroscopic, so that damp air and water are inimical. Complaints from moonlight.
Rapid exhaustion and emaciation.
Left-sided and chilly medicine. Variola, aborts the pustule and prevents the suppurating fever.
Vaccinosis,
viz., inveterable skin troubles, neuralgia, etc.
≡ more ...