Arbor Vitae, Thuja, Thuya, Thuja Occidentalis, Thuya occidentalis



Available
in 2X-30X, 200X, 2C-30C, 200C, 1M-50M, CM, Q from $6.50
Purchase options
HPUS indication: Warts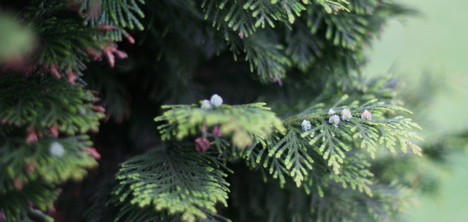 Homeopathic remedies are prescribed on the basis that in a tiny dilution like cures like, so while the very dilute homeopathic remedy may help, the raw product is often best avoided.
Below are the strongest indications of Thuja in traditional homeopathic usage, not reviewed by the FDA.
RESPIRATION
Respiration
Dry, hacking cough in afternoon, with pain in pit of stomach
Stitches in chest; worse, cold drinks
Asthma in children ( Nat-sulph.) Papilloma of larynx
Chronic laryngitis.
Abdominal
Accelerated; night
Asthma attack
night
in children; after vaccination
after dinner
periodic
after vaccination
Deep
Difficult (dyspnea)
night
ascending
during chill
when drinking
after drinking
from mucus in the wind pipe
from pressure on breast bone
swallowing
while walking
from warmth; in a warm room
Gasping
Impeded, obstructed; with pain; sudden, sharp pain in chest
Interrupted; afternoon
on climbing steps
while walking
Rattling
Whistling
≡ more ...