Arbor Vitae, Thuja, Thuya, Thuja Occidentalis, Thuya occidentalis
HPUS label indication: Warts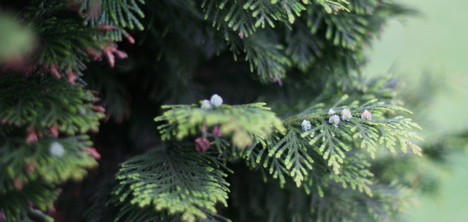 Homeopathic remedies are prescribed on the basis that in a tiny dilution like cures like, so while the very dilute homeopathic remedy may help, the raw product is often best avoided.
Below are the strongest indications of Thuja in traditional homeopathic usage, not reviewed by the FDA.
VERTIGO, DIZZINESS
Vertigo, dizziness
Morning; on rising
Afternoon
Evening
Night
Night; on waking
Balancing sensation
On closing eyes
On closing eyes; while sitting
After eating; after dinner
Epileptic
As if intoxicated
From looking at...; with eyes turned downward
From looking at...; eyes turned either way, right or left
From looking at...; looking upwards
From looking at...; looking upwards; at a light
Lying down
When lying down; while lying down
In women; during period
From movement; moving the head
Perception of objects distorted; objects seem to move
Reeling
On rising
On rising; from a seat
While sitting
While sitting; sitting up in bed
After sleep
While standing; with staggering
On stooping
Sudden
Like swinging
While talking; after animated talking
While talking; for a long time
While walking
While walking; while in the open air
While walking; sensation of gliding in the air, as if feet did not touch the ground, while walking
While writing
≡ more ...