Agraphis Nutans
Bluebell, Ag-nut.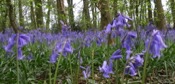 Have you ever used Agraphis Nutans? Yes No


Below are the main rubriks (i.e strongest indications or symptoms) of Agraphis Nutans in traditional homeopathic usage, not approved by the FDA.
▲ GENERAL
General
Adenoids with enlarged tonsils.
Materia medica entries of other remedies mentioning Agraphis Nutans
Calc-i > relationships
Compare: Agraphis - Bluebell (adenoids with enlarged tonsils). Here Sulph. Iod. follows both Agraphis and Calcarea Iodata. Acon. lycoctonum (swelling of glands, Hodgkin's disease).
Sulph > relationships
Compare in adenoids: Agraphis.