Amanita, Toad Stool, Bug Agaric, Agaric, Amanita Muscaria, Agar.
HPUS
indication of Agaricus Muscarius:
Numbness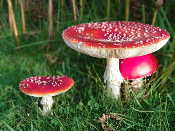 Below are the main rubriks (i.e strongest indications or symptoms) of Agaricus Muscarius in traditional homeopathic usage, not approved by the FDA.


Have you ever used Agaricus Muscarius? Yes No


< < Agaricus Muscarius- main page
ABDOMEN
Abdomen
Nervous disturbances, with spasmodic contractions, hiccough
Unnatural hunger
Flatulent distention of stomach and abdomen
Gastric disturbance with sharp pains in liver region.
Stitching pains in liver, Spleen (Ceanothus Americanus Ceanothus) and abdomen
Stitches under short ribs, left side
Fetid stools.
Urinary Organs.
Stitches in urethra
Sudden and violent urging to urinate
Frequent urination.
Eating
Burning in stomach about three hours after a meal, changing into a dull pressure
Eructation
Stomach; Empty eructations, tasting of apples
Flatus
Profuse inodorous flatus
Diarrhoea with much fetid flatus
≡ more ...