Amanita, Toad Stool, Bug Agaric, Agaric, Amanita Muscaria, Agar.
HPUS
indication of Agaricus Muscarius:
Numbness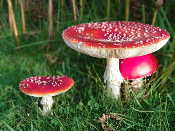 Below are the main rubriks (i.e strongest indications or symptoms) of Agaricus Muscarius in traditional homeopathic usage, not approved by the FDA.


Have you ever used Agaricus Muscarius? Yes No


< < Agaricus Muscarius- main page
ABDOMEN
Abdomen
Shootings (sharp needle-like pains) in the hepatic region.
Prickings in the region of the spleen during and after inspiration.
Stitch in side from running.
Cutting and pinching pains in the abdomen as from diarrhoea.
Moving about and rumbling noise in the abdomen.
Abundant expulsion of flatulency of a fetid odour, like that of garlic.
Appetite
Insipid and fetid taste in the mouth.
Want of appetite for bread.
Hunger, with want of appetite.
Attacks of bulimy, chiefly in the evening.
Eating
Eructations, with the taste of the food that has been taken.
Inclination to vomit immediately after a meal.
Pressure on the stomach, and in the precordial region, after a meal.
After a meal, pressure in the stomach and the abdomen, with fulness.
Very drowsy after dinner.
Nausea
Nausea, with cutting pains.
Stomach
Eructations alternately with hiccough.
Frequent empty eructations; or with the taste of apples; or with the taste of rotten eggs.
Pain resembling cramp and oppressive heaviness in the stomach.
≡ more ...