Amanita, Toad Stool, Bug Agaric, Agaric, Amanita Muscaria, Agar.
HPUS
indication of Agaricus Muscarius:
Numbness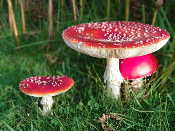 Below are the main rubriks (i.e strongest indications or symptoms) of Agaricus Muscarius in traditional homeopathic usage, not approved by the FDA.


Have you ever used Agaricus Muscarius? Yes No


< < Agaricus Muscarius- main page
BACK AND NECK
Back and neck
Painful weakness in the muscles of the back.
Sensation of soreness and great weakness in the back.
Paralytic pain in the loins, increased by walking or by standing. 21. Limbs.
Limbs affected diagonally; l. forearm, r. thigh; r. knee, l. hand.
Tearing in limbs, agg. in rest or sitting, amel. moving.
Cracking in joints.
Subsultus tendinum.
Feels as if her limbs did not belong to her.
Neck
Pain as from fatigue and dislocation in the back, at the nape of the neck and in the loins, esp. when sitting or lying down.
≡ more ...