Amanita, Toad Stool, Bug Agaric, Agaric, Amanita Muscaria, Agar.
HPUS
indication of Agaricus Muscarius:
Numbness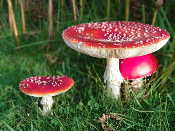 Below are the main rubriks (i.e strongest indications or symptoms) of Agaricus Muscarius in traditional homeopathic usage, not approved by the FDA.


Have you ever used Agaricus Muscarius? Yes No


< < Agaricus Muscarius- main page
BACK AND NECK
Back and neck
Pain in the back, as after continued stooping.
Muscles feel bruised; on bending forward, feel short.
Spasmodic, pressive, drawing pain starts from back, extends to middle of chest and into oesophagus.
Violent shooting, burning pains, deep in the spine.
Aching along spine and limbs.
Sensation of ants creeping along spine.
Spine sensitive to touch; worse mornings.
Every motion, every turn of body, causes pain in spine.
Sudden stitch in sacral region while walking in open air.
Neck
Twitching of the cervical muscles.
Stiffness in the nape of the neck.
Peculiar sensation of weakness and stiffness between shoulders; extends to the neck.
Pain in lumbar region and sacrum; a sort of crick in the back; extends along to the nape of the neck.
≡ more ...