Amanita, Toad Stool, Bug Agaric, Agaric, Amanita Muscaria, Agar.
HPUS
indication of Agaricus Muscarius:
Numbness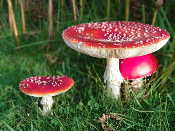 Below are the main rubriks (i.e strongest indications or symptoms) of Agaricus Muscarius in traditional homeopathic usage, not approved by the FDA.


Have you ever used Agaricus Muscarius? Yes No


< < Agaricus Muscarius- main page
BACK AND NECK
Back and neck
The most of the pains are in the back of the neck and the lumbo-sacral region. Pains in this region in connection with coition. Pain in the lumbar region and sacral region, especially during exertion, sitting, etc. Pain in the sacrum as if beaten, as if it would break. Pains below the waist in women.
Back
Violent, shooting, burning pains. Pain along the spine, worse by stooping. Pains of all sorts in the spine. Pains go up the back and down the back. Sensitiveness of the spine to touch, especially in the back of the peck and dorsal region between the scapulae.
Sensitive to a hot sponge in the lumbar region in spinal irritation. Sensation as if cold air were spreading along the back like an aura epileptica.
Sensation of ice touching the body. Cold spots. Chilliness over the back, crawling, creeping and formication. Numbness of skin over the back.
The back has many peculiar and general guiding symptoms. Stiffness of the whole spine. Feeling as if it would break when he attempts to bend. Feels as if something is so tight that it will break when he stoops. Tightness in the muscles of the back. Tingling deep in the spine.
≡ more ...