Amanita, Toad Stool, Bug Agaric, Agaric, Amanita Muscaria



Available
in 2C-30C, 200C, 2X-30X, 200X, 1M-50M, CM from $6.50
Purchase options
HPUS indication of Agaricus Muscarius: Numbness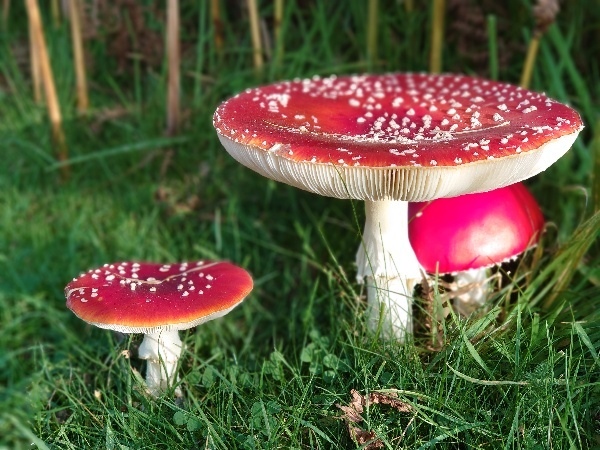 Homeopathic remedies are prescribed on the basis that in a tiny dilution like cures like, so while very dilute Agaricus Muscarius may help, unprocessed Agaricus Muscarius may be best avoided.
Below are the main rubriks (i.e strongest indications or symptoms) of Agaricus Muscarius in traditional homeopathic usage, not reviewed by the FDA.
< < Agaricus Muscarius - main page
BACK AND NECK
Back and neck
Pain; sore, bruised, beaten
sore, bruised, beaten; neck
sore, bruised, beaten; lumbar (lower half of back)
morning; in bed
while lying down
while sitting
while standing
sacrum (base of spine)
Neck
Twitching of cervical muscles.
Constriction; neck
Cracking; neck
Heat; neck
Heaviness, weight; neck
Pain; neck
neck; late morning
neck; on moving head
to either side
neck; stooping
neck; on turning head
aching; neck; late morning
as if broken; neck
burning; dorsal (shoulder level); shoulder blades; left; back and side of neck walking and writing
pulling; neck
pressing; neck
as if sprained; neck
stitching, sudden, sharp, shooting; neck
on stooping
Skin; out-breaks on skin; neck
out-breaks on skin; pimples; neck
itching; neck
Stiffness; neck
Tension; neck (see spasmodic pulling)
Weakness (tired feeling, in spine); neck
neck; manual labour
Back
Pain, With sensitiveness of spine to touch; worse in dorsal region
Lumbago; worse in open air
Crick in back
Coldness
open air; spreading from spine over body, like an epileptic aura
travelling down back
like cold water poured down the back
dorsal (shoulder level)
beneath shoulder blades
between shoulder blades
between shoulder blades; like ice
spine
Cracking; lumbar (lower half of back); when stooping
spine, on moving
Heat
coccyx (bottom tip of spine)
Numbness
Pain
morning
on waking
afternoon
evening
night
in cold air
travels upwards
after dinner
after eating
from exertion
leaning back against chair
while lying down
on movement
pressure
in thigh while sitting
rising from sitting
when sitting long, almost impossible to get up
rising from stooping
while sitting
while standing
when stooping
when straightening up the back
during thunderstorm
when turning
while walking
in women; during period
extending to other parts; lower extremities
dorsal (shoulder level)
on movement
on movement; of head
while walking
shoulder blades; left
shoulder blades; left; riding
shoulder blades; left; under; lying with shoulder on something hard
shoulder blades; between
lumbar (lower half of back)
exertion
while lying down
lying on left side
during period
during movement
on rising from a seat
while sitting
when sitting, pain while raising thigh
standing
during stool
on stooping
while walking
hips
extending to other parts; down the legs
extending to other parts; down the legs; during stool
extending to other parts; thighs
sacrum (base of spine)
evening
sexual intercourse
during exertion
leaning back against chair
forced to lie down
while lying down
while lying down; not able to rise from lying down
lying down
lying on the back
lying on right side
during movement
while sitting
while standing
during stool
during stool; while pressing at stool
turning in bed; to left
while walking
extending to other parts; down legs
coccyx (bottom tip of spine)
as if dislocated
spine
after dinner
after eating
irritation
irritation; morning
irritation; leaning against a chair
irritation; before thunderstorm
irritation; dorsal (shoulder level)
irritation; lumbar (lower half of back)
on movement
while stooping
extending to other parts; to lower extremities
extending up spine
aching
afternoon
evening
night
after dinner
after eating
during period
on movement
on stooping
after stooping
dorsal (shoulder level); shoulder blades; under them
lumbar (lower half of back); night
lumbar (lower half of back); while lying down
lumbar (lower half of back); on rising up
lumbar (lower half of back); while sitting
lumbar (lower half of back); when stooping; after work in the garden
lumbar (lower half of back); walking
base of spine
base of spine; sitting
spine
boring
lumbar (lower half of back)
as if broken
base of spine
burning
spine
spine; in spots
spine; over small area
cutting; dorsal (shoulder level)
digging; as with a splinter
digging; base of spine
dragging
during movement
pulling
evening
lumbar (lower half of back)
lumbar (lower half of back); extending to other parts; thighs
gnawing, biting
shoulder blades; below them
coccyx (bottom tip of spine)
labour-like; small of back; during period
with rigidness; lumbar (lower half of back)
standing
while walking
pressing
during period
lumbar (lower half of back)
sacrum (base of spine)
sacrum (base of spine); leaning back against chair
sacrum (base of spine); while sitting
as if sprained
lumbar (lower half of back)
base of spine
stitching, sudden, sharp, shooting
daytime
dorsal (shoulder level)
dorsal (shoulder level); shoulder blades
dorsal (shoulder level); between shoulder blades
dorsal (shoulder level); between shoulder blades; spine
dorsal (shoulder level); under shoulder blades
lumbar (lower half of back)
lumbar (lower half of back); raising thigh while sitting
sacrum (base of spine)
sacrum (base of spine); pain compels to lie on the back
sacrum (base of spine); while walking
sacrum (base of spine); while walking in the open air
spine
tearing
during period
dorsal (shoulder level); shoulder blades; below shoulder blade
dorsal (shoulder level); shoulder blades; between shoulder blades
lumbar (lower half of back)
lumbar (lower half of back); walking
Pulsating
coccyx (bottom tip of spine)
spine
Skin; out-breaks on skin; pimples
out-breaks on skin; pus-filled pimples
like insects crawling on skin
spine
itching
night
burning
lumbar (lower half of back); base of spine
lumbar (lower half of back); coccyx (bottom tip of spine)
sensitive to hot sponge, lumbar (lower half of back)
Shivering
extending down the back
Shocks, electric like; along the spine
Spasms; opisthotonos (body bent backward and stiffened)
Stiffness
rising
from a seat
Tension
lumbar (lower half of back)
evening; on standing
standing
stretching
touch
Twitching
while lying on back
lumbar (lower half of back)
evening
Weakness (tired feeling, in spine)
sexual excesses
while sitting
dorsal (at shoulder dorsal level); between shoulder blades
lumbar (lower half of back)