Amanita, Toad Stool, Bug Agaric, Agaric, Amanita Muscaria, Agar.
HPUS
indication of Agaricus Muscarius:
Numbness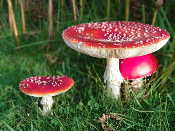 Have you ever used Agaricus Muscarius? Yes No


< < Agaricus Muscarius- main page

Below are the main rubriks (i.e strongest indications or symptoms) of Agaricus Muscarius in traditional homeopathic usage, not approved by the FDA.
CHEST
Chest
Oppressive constriction of the chest, with a necessity for frequent and deep inspirations. Pain principally in the lower part of the chest, as if its contents were compressed.
Prickings in the chest.
Copious nocturnal sweat upon the chest.
Itching of the nipples.
Heart
Stitches; burning, shooting pains in region of heart, extending to l. shoulder-blade; agg. by coughing, sneezing, or deep inspiration.
Oppression in cardiac region as if thorax narrowed.
Painful palpitations of the heart.
With heart symptoms, paralysed feeling in l. arm and hand.
Pulse weak, dicrotic, intermittent.
Respiration
Respiration short and laboured, with difficulty of walking, even slowly.
Respiration difficult, as if the chest were full of blood.
Expectoration of small globules of mucus, almost without cough.
Spasmodic, convulsive, nervous cough, which may provoke secondary haemorrhage.
≡ more ...