Amanita, Toad Stool, Bug Agaric, Agaric, Amanita Muscaria, Agar.
HPUS
indication of Agaricus Muscarius:
Numbness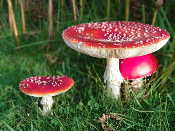 Have you ever used Agaricus Muscarius? Yes No


< < Agaricus Muscarius- main page

Below are the main rubriks (i.e strongest indications or symptoms) of Agaricus Muscarius in traditional homeopathic usage, not approved by the FDA.
CHEST
Lungs
Jerking stitches through right lung.
Oppression of the chest, in the region of the diaphragm, with drawing pains.
Respiration
Tension in the lower part of the chest during motion and when sitting, taking away his breath.
Oppression and constriction of the larynx; he fears suffocation.
Frequent deep inspiration.
Difficulty in breathing, as if the chest was too full; he must breathe more deeply; also from muscular constriction.
Heart and pulse
Burning, shooting pains in region of heart, extending to left shoulder-blade; caused by deep inspiration and much worse from coughing, sneezing, hiccough.
Anxious sensation of pressure in heart, oppression on bending body.
Palpitation violent, strongly felt, worse evenings, with redness of face; on sitting down, some irregular strong beats; anxious oppression.
Constant feeling of a lump in the epigastrium, with pain under the sternum; drawing in region of diaphragm, sharp pains in left side.
Pulse feeble, scarcely perceptible; becomes slower; small, irregular.
≡ more ...