Amanita, Toad Stool, Bug Agaric, Agaric, Amanita Muscaria, Agar.
HPUS
indication of Agaricus Muscarius:
Numbness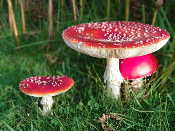 Have you ever used Agaricus Muscarius? Yes No


< < Agaricus Muscarius- main page

Below are the main rubriks (i.e strongest indications or symptoms) of Agaricus Muscarius in traditional homeopathic usage, not approved by the FDA.
CHEST
Chest
These shocks come from sudden noise; from eructations; on coughing; when lying on the left side or back; worse at night; during fever; they often extend to other parts, as to abdomen or back or limbs. On the outer chest there is tingling and creeping as in general.
Agaricus Muscarius Agaricus is a great remedy in chest troubles, though seldom thought of. It has cured what seemed to be consumption. Catarrhal condition of the chest, with-night sweats and history of the nervous symptoms.
Heart
The remedy is full of nervous palpitation; worse in the evening. It cures shocks and thrills in the heart; spasms of the heart; internal manifestations of its jerking symptoms.
≡ more ...