Amanita, Toad Stool, Bug Agaric, Agaric, Amanita Muscaria, Agar.
HPUS
indication of Agaricus Muscarius:
Numbness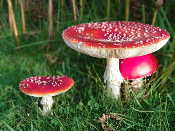 Below are the main rubriks (i.e strongest indications or symptoms) of Agaricus Muscarius in traditional homeopathic usage, not approved by the FDA.


Have you ever used Agaricus Muscarius? Yes No


< < Agaricus Muscarius- main page
COUGH
Cough
Violent cough in isolated attacks ending in sneezing. Convulsive cough, with sweat towards evening, with frequent pulse, expectoration of pus-like mucus, worse in the mornings and when lying on the back. Add to this the symptoms of Agaricus Muscarius Agaricus as described, and Agaricus Muscarius Agaricus will take hold of that case.
Cases of incipient, phthisis. It closely relates to the tubercular diathesis.
I remember starting out to prove Tuberculinum Tuberculinum on an individual I suspected would be sensitive to it from his history and symptoms. The first dose almost killed him, and, considering the use that that substance is put to in diagnosing the disease in cattle, it seemed to stir him up.
He became emaciated and looked as if he would die. I let it alone and watched and waited patiently and the symptoms of Agaricus Muscarius Agaricus came up and established the relationship between these two remedies, and confirmed Hering's observation of the relationship of Agaricus Muscarius Agaricus to the tubercular diathesis. Agaricus Muscarius Agaricus cured him and fattened him up.
≡ more ...