Amanita, Toad Stool, Bug Agaric, Agaric, Amanita Muscaria, Agar.
HPUS
indication of Agaricus Muscarius:
Numbness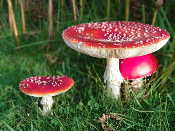 Have you ever used Agaricus Muscarius? Yes No


< < Agaricus Muscarius- main page

Below are the main rubriks (i.e strongest indications or symptoms) of Agaricus Muscarius in traditional homeopathic usage, not approved by the FDA.
EARS
Ear
Earache, a tearing in the auditory meatus of the right ear, which is excited and increased by cold air penetrating into the ear, extends to the upper jaw and continues several days.
Stitches in the left mastoid process.
Itching in and behind the ears.
Itching in the external meatus of the right ear.
Itching with tickling in the right ear, inciting to scratching (aft. 29 h.).
Itching, mostly in the left ear, which induces boring with the finger.
Itching on the lobules of the ears.
Itching on the external ear compelling him to rub; this causes redness and soreness, without stopping the itching.
Itching, redness and burning of the ears, as if they had been frozen.
Itching and pimples on the posterior surface of the external ear.
Sensation in the ears as if ear-wax was running out.
Hearing
Buzzing in the ears.
Ringing in the right ear while walking in the open air (aft. 4 h.).
≡ more ...