Amanita, Toad Stool, Bug Agaric, Agaric, Amanita Muscaria, Agar.
HPUS
indication of Agaricus Muscarius:
Numbness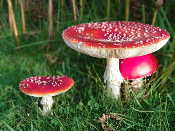 Have you ever used Agaricus Muscarius? Yes No


< < Agaricus Muscarius- main page

Below are the main rubriks (i.e strongest indications or symptoms) of Agaricus Muscarius in traditional homeopathic usage, not approved by the FDA.
EXTREMITIES, LIMBS
Extremities, limbs
Stiff all over
Pain over hips
Rheumatism better motion
Weakness in loins
Uncertain gait
Trembling
Itching of toes and feet as if frozen
Cramp in soles of feet
Pain in shin-bone
Neuralgia in locomotor ataxia
Paralysis of lower limbs, with spasmodic condition of arms
Numbness of legs on crossing them
Paralytic pain in left arm followed by palpitation
Tearing painful contractions in the calves.
≡ more ...