Amanita, Toad Stool, Bug Agaric, Agaric, Amanita Muscaria, Agar.
HPUS
indication of Agaricus Muscarius:
Numbness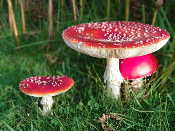 Have you ever used Agaricus Muscarius? Yes No


< < Agaricus Muscarius- main page

Below are the main rubriks (i.e strongest indications or symptoms) of Agaricus Muscarius in traditional homeopathic usage, not approved by the FDA.
EXTREMITIES, LIMBS
Upper extremities
Arms weak and without vigour.
Burning pain in the arms, followed by an eruption of small pimples with scaling of the epidermis.
Irregular and hurried movements of arm.
Upper arms shaken as from an electric shock.
Prostration, weariness, and paralytic feeling in l. arm.
Tearing in both hands; on l. wrist.
Trembling of hands; and coldness.
Tearing in the fingers.
Cramp-like pain in the thumb.
Paleness and numbness of the fingers, which are, at the same time, very sensitive to cold.
Itching, burning pain, and redness in the fingers, as if from chilblains.
Lower extremities
Legs heavy and fatigued, esp. in the thighs.
Twitching, Merc Viv quicksilver sensation, in gluteal muscles.
Pains in legs like electric shocks.
On crossing thighs feels a violent pain in them.
Drawing in the legs, as if in the interior of the bone, esp. when sitting or standing, amel. by motion.
Painful sensation in the hip on walking.
Drawing in the legs.
Darting pain in the feet and in the toes.
Drawing pressure in the malleolae.
Burning itching and redness in the toes, as if from chilblains.
Bunion.
≡ more ...