Amanita, Toad Stool, Bug Agaric, Agaric, Amanita Muscaria, Agar.
HPUS
indication of Agaricus Muscarius:
Numbness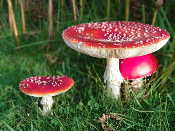 Have you ever used Agaricus Muscarius? Yes No


< < Agaricus Muscarius- main page

Below are the main rubriks (i.e strongest indications or symptoms) of Agaricus Muscarius in traditional homeopathic usage, not approved by the FDA.
EXTREMITIES, LIMBS
Extremities, limbs
Frequent jumping of muscles.
Feels as if her limbs did not belong to her.
After repeated and severe epistaxis, great soreness and bruised feeling of joints of limbs.
Limbs cold, blue.
Upper extremities
Violent laming pain in left hand and arm after palpitation commences.
Drawing pain from left upper arm to forearm; drawing in muscles of left forearm and down over the elbow.
Burning, itching pimples on the arms.
Burning itching on both hands, as if frozen; parts hot, swollen, red.
Trembling of the hands.
Right hand unsteady while writing; arm feels paralyzed from much writing.
Stiffness in fingers from gout.
Lower extremities
Twitching of the gluteal muscles.
Heaviness of the legs; languor.
Pains in legs, especially in region of right hip-joint, like from fatigue.
Violent pains in limbs, especially left hip under gluteal muscles.
Drawing, pressive pains in legs; especially in ankles.
Pains in legs most marked, standing or sitting; better when walking or from motion.
Dull pain along the tibia; drawing pains.
Toes itch and burn; are red and swollen, as if frostbitten.
Cramp in the soles at night.
≡ more ...