Amanita, Toad Stool, Bug Agaric, Agaric, Amanita Muscaria, Agar.
HPUS
indication of Agaricus Muscarius:
Numbness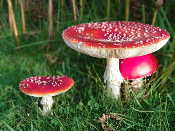 Have you ever used Agaricus Muscarius? Yes No


< < Agaricus Muscarius- main page

Below are the main rubriks (i.e strongest indications or symptoms) of Agaricus Muscarius in traditional homeopathic usage, not approved by the FDA.
EXTREMITIES, LIMBS
Extremities, limbs
Limbs In the limbs in general there are twitchings; they are numb, choreic; burning here and there; cold feelings in spots, paralyzed. Trembling of limbs, hands, awkwardness of all the movements. Rheumatism and gout of joints. Paralysis of the lower limbs. Trembling and weakness of the lower limbs.
Burning itching of the hands as if frozen. In the smaller joints, where the circulation is feeble, there are frostbite symptoms. Toes and fingers stiff.
Paralytic weakness in the lower limbs soon after becoming pregnant. This comes with every pregnancy and she must go to bed. The symptoms may lead to Agaricus Muscarius Agaricus. Weight in the legs. Legs feel heavy. Trembling and jerking motion in the lower limbs.
feel as if they would break during rest, especially in the lower limbs. Feeling as if the tibia would break. Aching in the tibia. Growing pains in children and they must sit at the fire or the extremities will get cold. Pains in the bones. Weight in the legs. Pains in the lower limbs.
aching. stitching. tearing.
better from warmth and from motion.
≡ more ...