Amanita, Toad Stool, Bug Agaric, Agaric, Amanita Muscaria



Available
in 2C-30C, 200C, 2X-30X, 200X, 1M-50M, CM from $6.50
Purchase options
HPUS indication of Agaricus Muscarius: Numbness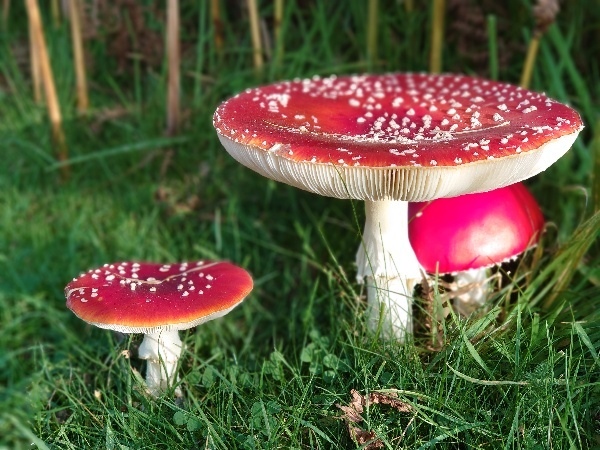 Homeopathic remedies are prescribed on the basis that in a tiny dilution like cures like, so while very dilute Agaricus Muscarius may help, unprocessed Agaricus Muscarius may be best avoided.
Below are the main rubriks (i.e strongest indications or symptoms) of Agaricus Muscarius in traditional homeopathic usage, not reviewed by the FDA.
< < Agaricus Muscarius - main page
EYES
Eyes
Reading difficult, as type seems to move, to swim
Vibrating specters
Double vision (Gelsemium Sempervirens Gels.), dim and flickering
Asthenopia from prolonged strain, SPASM of accommodation
Twitching of lids and eyeballs ( Codein.) Margins of lids red; itch and burn and agglutinate
Inner angles very red.
Eyebrows; hair falling from brows
Lids; narrowing of gap between eyelids
opening eyes difficult
half open
desire to close
must close
spasmodic closure
eyes closed; half open
eyes opening and closing in quick succession
stuck together
winking
Anaemia; of retina
Cold
Cornea (transparent part of eye); contracting sensation
spots and specks, on cornea
brown
yellow in white of eyes
blisters
Crawling sensation
Discoloration; redness
redness; corner
yellow
spot on eye
Discharges of mucus or pus
yellow
corner; inner
Distorted
Dryness
Eye gum; on lids
corner
Fistula (abnormal hole); tear glands
Eye feels hot
Heaviness; lids
Inflammation
wounds; corner; inner
wounds; conjunctiva (external lining of eye); oozing pus (including cornea)
Itching
morning
rubbing
corner
eyebrows
Looking steadily (see vision, exertion)
Movement of eyeballs; constant
convulsive
involuntary
pendulum like, from side to side
turned; upward
rolling
Pain
left
after dinner
during headache
on movement of eyes
when using eyes; when reading
touch
yawning
extending to other parts; to forehead
aching
left
burning, smarting, gnawing, biting
evening
closing lids
with cough
as if sand in eye
yawning
corner
margins of lids; morning; on waking
contracting
evening
pulling
pulling the eyeball backward
after dinner
extending to other parts; forehead
as from something in eye; in corner; inner
as from something in eye; like sand in eye
jerking
left
pressing
left
morning
after dinner
inward
when moving eyes
outward
while reading
extending to forehead
sore, bruised, tender
moving the eyes
stitching, sudden, sharp
corner
corner; inner
tearing
Paralysis; of muscles of eyeball; internal recti (to move eye towards other eye)
Intolerance of light (photophobia)
artificial light
Pupils; contracted
dilated
insensitive to light
Quivering; lids
Spasms; of lids
muscles which focus eye
Staring
Stiffness; of eyeballs
muscles around the eyes
Strabismus (eyes incorrectly aligned)
divergent
Sunken
Swellings; corner
painful boil, shedding skin and tissues (carbuncles)
tear gland
Tears
with running nose
with cough
during headache
Tension
after sexual intercourse
Twitching
cold water
painful
while reading
corner
lids
while reading
before thunderstorm
Ulceration; cornea (transparent part of eye)
Weak
while reading
Inclination to wipe
Vision
Accommodation, movement of eyeball; defective
Colours and shapes in front of eyes; colours
colours; evening
colours; black
spots
spots; floating (aka muscae volitantes or spiders)
colours; dark
spots
spots; floating
colours; yellow
spots
spots; before left eye
Dim
after exertion of eyes; on detailed work
insensibility to light
looking long
when reading
straining eyes
during vertigo, dizziness
while walking; in open air
Double vision
evening
overwork at the desk
when reading
Exertion of vision
Flickering
while writing
Focal distance; changes while reading
Foggy
Illusions (see mind)
Lost vision, blindness
as from fainting
while reading
Moving
letters
Short-sightedness
while reading
Objects become pale, after looking long
Weak (see eyes, weak)
using eyes