Amanita, Toad Stool, Bug Agaric, Agaric, Amanita Muscaria, Agar.
HPUS
indication of Agaricus Muscarius:
Numbness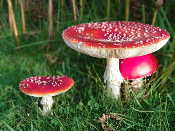 Below are the main rubriks (i.e strongest indications or symptoms) of Agaricus Muscarius in traditional homeopathic usage, not approved by the FDA.


Have you ever used Agaricus Muscarius? Yes No


< < Agaricus Muscarius- main page
EYES
Eyes
Reading difficult, as type seems to move, to swim
Vibrating specters
Double vision (Gelsemium Sempervirens Gels.), dim and flickering
Asthenopia from prolonged strain, SPASM of accommodation
Twitching of lids and eyeballs ( Codein.) Margins of lids red; itch and burn and agglutinate
Inner angles very red.
≡ more ...