Amanita, Toad Stool, Bug Agaric, Agaric, Amanita Muscaria, Agar.
HPUS
indication of Agaricus Muscarius:
Numbness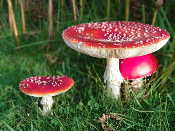 Below are the main rubriks (i.e strongest indications or symptoms) of Agaricus Muscarius in traditional homeopathic usage, not approved by the FDA.


Have you ever used Agaricus Muscarius? Yes No


< < Agaricus Muscarius- main page
EYES
Eyes
Itching in the eyes.
Burning sensation in the internal corners of the eyelids, which are painful on being touched.
Pressure in the eyes.
Humour in the corners of the eyes, and agglutination of the lids.
Twitching of the eyelids and eyeballs.
The cleft of the eyelids growing narrower.
Canthi itch, burn, are red; agg. from touch; stick together (lachrymal fistula).
A viscid yellow humour glues the eyelids together.
Weakness and confusion of vision, as from a mist before the eyes.
Brownish spots (like flies) before the eyes.
Black motes before the eyes.
Myopia.
Diplopia. Muscular asthenopia; nystagmus; squint.
Clonic spasms.
≡ more ...