Amanita, Toad Stool, Bug Agaric, Agaric, Amanita Muscaria, Agar.
HPUS
indication of Agaricus Muscarius:
Numbness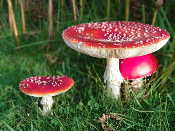 Below are the main rubriks (i.e strongest indications or symptoms) of Agaricus Muscarius in traditional homeopathic usage, not approved by the FDA.


Have you ever used Agaricus Muscarius? Yes No


< < Agaricus Muscarius- main page
EYES
Eyes
You will observe this about the Agaricus Muscarius Agaricus eyes; as the patient looks at you there is a pendulum like action of the eyes, they go back and forth all the time; they oscillate, though he tries his best to fix his look on you.
Agaricus Muscarius stops only during sleep; all the motions subside during sleep. A few other medicines have cured this eye symptom, Cicuta Virosa Cicuta, Arsenicum Album Arsenicum, Sulphur Sulphur, Pulsatilla Pulsatilla, but Agaricus Muscarius Agaricus also produces and cures it.
Muscular weakness of the eyes. Irregularity of the motions of the eyes.
Twitching and jerking of the eyes.
Vision
There is every conceivable kind of deception in colors and in vision. Flickering before the eyes; he reads with difficulty. Objects seem to be where they are not. Black flies before the eyes; black motes; sees double; floating flies before the eyes.
≡ more ...