Amanita, Toad Stool, Bug Agaric, Agaric, Amanita Muscaria, Agar.
HPUS
indication of Agaricus Muscarius:
Numbness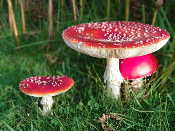 Have you ever used Agaricus Muscarius? Yes No


< < Agaricus Muscarius- main page

Below are the main rubriks (i.e strongest indications or symptoms) of Agaricus Muscarius in traditional homeopathic usage, not approved by the FDA.
FACE
Face
FACIAL; muscles feel stiff; TWITCH; face itches and burns
Lancinating, tearing pain in cheeks, as of splinters
Neuralgia, as if cold needles ran through nerves or sharp ice touched them.
≡ more ...