Amanita, Toad Stool, Bug Agaric, Agaric, Amanita Muscaria, Agar.
HPUS
indication of Agaricus Muscarius:
Numbness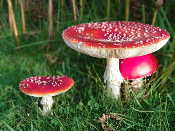 Have you ever used Agaricus Muscarius? Yes No


< < Agaricus Muscarius- main page

Below are the main rubriks (i.e strongest indications or symptoms) of Agaricus Muscarius in traditional homeopathic usage, not approved by the FDA.
FACE
Face
Tearing in the face and jaw bones.
Twitching in the (r.) cheek.
On waking, pain in l. jaw-joint, so violent, he can scarcely open his mouth.
Itching, redness, and burning in the cheeks, as if from chilblains.
Palpitations and pulsations in the cheeks.
Bluish lips.
Burning fissures in the upper lip.
Herpetic eruption, principally on upper lip.
Spasmodic drawing in the chin and in the lower jaw.
Needle-like prickings in chin; chin covered with minute blisters.
≡ more ...