Amanita, Toad Stool, Bug Agaric, Agaric, Amanita Muscaria, Agar.
HPUS
indication of Agaricus Muscarius:
Numbness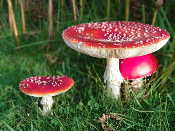 Below are the main rubriks (i.e strongest indications or symptoms) of Agaricus Muscarius in traditional homeopathic usage, not approved by the FDA.


Have you ever used Agaricus Muscarius? Yes No


< < Agaricus Muscarius- main page
FACE
Face
In the face, in the left cheek, stitches extending upward from the lower jaw (aft. 1 h.).
Obtuse stitches in the right cheek-bone.
Lancinating, drawing pain in the right cheek (aft. 2 h.).
Quick throbbing of an artery in the left cheek with shooting stitches from the left eye to the upper jaw.
Quivering, like pulsation, in the right cheek (aft. 8 d.).
Burning of the cheeks.
Burning in the cheeks (aft. 1 or 2 h.).
Redness of the face without any perceptible heat.
Redness of the face with itching and burning, as after freezing the parts.
Itching in the face.
Itching in the whiskers.
Itching on the forehead, inducing scratching and pimples there.
≡ more ...