Amanita, Toad Stool, Bug Agaric, Agaric, Amanita Muscaria, Agar.
HPUS
indication of Agaricus Muscarius:
Numbness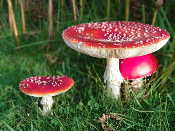 Have you ever used Agaricus Muscarius? Yes No


< < Agaricus Muscarius- main page

Below are the main rubriks (i.e strongest indications or symptoms) of Agaricus Muscarius in traditional homeopathic usage, not approved by the FDA.
FACE
Face
The Agaricus Muscarius Agaricus patient has spells in which a little muscle of the face or a few fibres of a muscle will quiver for a few minutes and stop, and then in another part of the face the same thing, an eyelid will quiver, and then another set of fibres, sometimes so bad as to nearly drive him crazy. Such is an Agaricus state as well as Nux Vomica Nux vomica
From what we have already seen we expect twitching of the muscles of the face, and itching and redness and burning as if frostbitten, paralytic weakness, etc., because these are general features, and just as we expect we see these things in the text.
≡ more ...