Amanita, Toad Stool, Bug Agaric, Agaric, Amanita Muscaria, Agar.
HPUS
indication of Agaricus Muscarius:
Numbness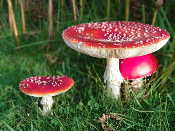 Below are the main rubriks (i.e strongest indications or symptoms) of Agaricus Muscarius in traditional homeopathic usage, not approved by the FDA.


Have you ever used Agaricus Muscarius? Yes No


< < Agaricus Muscarius- main page
FEVER AND CHILL
Fever and chill
Chilly shivers through the whole night.
Shivers over the whole body (aft. 10 min.).
A shiver runs through the body from above downwards.
Very sensitive to cool air.
The least sensation of cool air causes goose-skin.
Much inclined to chilliness.
As soon as he comes into the open air or raises the cover of his bed at night he is chilly.
Great internal chilliness.
Almost constant chilliness, he cannot get warm, especially in the morning in his room.
A chill runs over him, down his left leg to the foot.
Chill in the back, as if cold water were running down, when he leans his back against his chair.
Very chilly in the evening.
In evening when lying down, shaking chill for ten minutes.
In the evening, a long-continued chill which increases to shaking.
Every evening a feverish chill without thirst and without subsequent heat.
Shaking chill, when he lifts his bed-covers.
Shaking chill with yawning.
Chill, while the face, hands and feet are warm.
Violent chills, with shaking of the whole body and trembling of the hands while writing, while the hands are cold, but the face properly warm, without thirst or subsequent heat.
Warmth in the face and the whole upper body, in frequent flushes of 5-10 minutes.
Increased warmth in the body at night.
Violent attack of heat in the evening, so that the cheeks glow, while the hands are cold, with subsequent long-continued thirst without following perspiration (aft. 12 h.).
Heat at night, but as soon as she turns over or lifts the bedcover she is chilled.
At night, continual heat, then perspiration.
Heat with perspiration, in repeated attacks the whole afternoon, with a dull headache without thirst; when putting on his hat in the evening, the heat and perspiration increase, with hurried respiration and great prostration.
Perspiration after only moderate bodily exertion.
Perspiration while walking.
Night-sweat during uneasy sleep.
≡ more ...