Amanita, Toad Stool, Bug Agaric, Agaric, Amanita Muscaria, Agar.
HPUS
indication of Agaricus Muscarius:
Numbness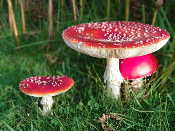 Below are the main rubriks (i.e strongest indications or symptoms) of Agaricus Muscarius in traditional homeopathic usage, not approved by the FDA.


Have you ever used Agaricus Muscarius? Yes No


< < Agaricus Muscarius- main page
FEVER AND CHILL
Fever and chill
Morning
Late morning
Noon
Evening
Evening; in bed
In the open air
On going into the cold air
Chilliness (see also whole body
temperature)
temperature); late morning
temperature); evening
temperature); night
Cold travels downwards (see coldness of back)
After eating
External
During movement
After movement
Periodic, recurring; recurring daily
Shaking, shivering, rigors
evening
while undressing
After sleep
At certain time of day or night
from 10 a.m.; to 11 a.m.
from 12 a.m.
Trembling and shivering
When uncovering, undressing
Warmth; warm room
Sensation of cold water
dashed over him
running down the back
As if cold wind were blowing; sensation as if cold air were spreading from the spine over the body like an epileptic aura
While writing
Afternoon
Evening
Night
Night
with chilliness
with perspiration
before midnight
Alternating with chills
shivering
Spreading up body
Bed (see night and warmth)
In bed (see night and warmth)
Localised
cerebro-spinal fever
upper body
Burning heat
evening
night
before midnight
With chilliness
Continued fever
afternoon
Heat moving down body
Heat absent
Intermittent, chronic
Internal heat; burning; in the blood vessels
Movement
Perspiration with heat
Heat comes on after sleep
Chilliness from uncovering
≡ more ...