Amanita, Toad Stool, Bug Agaric, Agaric, Amanita Muscaria, Agar.
HPUS
indication of Agaricus Muscarius:
Numbness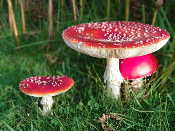 Have you ever used Agaricus Muscarius? Yes No


< < Agaricus Muscarius- main page

Below are the main rubriks (i.e strongest indications or symptoms) of Agaricus Muscarius in traditional homeopathic usage, not approved by the FDA.
GENERAL
General
Agaricus Muscarius fungus contains several toxic compounds, the best known of which is Muscarin. The symptoms of poisoning do not develop at once, usually twelve to fourteen hours elapse before the initial attack. There is no antidote, treatment, entirely symptomatic ( Schneider). Agaricus acts as an intoxicant to the brain, producing more vertigo and delirium than Alcohol, followed by profound sopor with lowered reflexes.
Jerking, twitching, trembling, and itching are strong indications. Incipient phthisis; is related to the tubercular diathesis, anaemia, CHOREA, twitching ceases during sleep. Various forms of neuralgia and spasmodic affections, and neurotic skin troubles are pictured in the symptomatology of Agaricus Muscarius. It corresponds to various forms of cerebral excitement rather than congestion. Thus, in delirium of fevers, alcoholism, etc. General paralysis. Sensations if pierced by needles of ice. Sensitive to pressure and cold air. Violent bearing-down pains. Symptoms appear diagonally as Right arm and left leg. Pains are accompanied by sensation of cold, numbness and tingling.
Dose
Third to thirtieth and two hundredth potency. In skin affections and brain exhaustions give the lower attenuations.