Amanita, Toad Stool, Bug Agaric, Agaric, Amanita Muscaria Agar.
Available
in 2C-30C, 200C, 4X-30X, 1M-100M, 30C, 200CH from $6.59
Purchase options
HPUS
indication of Agaricus Muscarius:
Numbness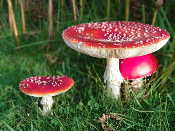 Below are the main rubriks (i.e strongest indications or symptoms) of Agaricus Muscarius in traditional homeopathic usage, not approved by the FDA.
< < Agaricus Muscarius- main page
GENERAL
General
Gradual onset
Many symptoms (Tuberculinum Tub)
IRREGULAR, ANGULAR, UNCERTAIN AND EXAGGERATED MOTIONS (Ignatia Ign); he reaches too far, staggers or steps too high, drops things, etc
TREMBLING, TWITCHING, JERKING or fibrillar spasm; here and there; worse EYELIDS or tongue
Shuddering
Nervous and restless
Chorea
As of cold needles, a cold drop or a weight on parts
Painful twitching, then parts stiff and cold
Hilarious or dull and dizzy; as if drunk
Turns head to and fro
Headache, better after stool or urine
Oscillating eyeballs
Gum in canthi
Musca volitantes
Angle of mouth droops
As of a lump in epigastrium
Rumbling and fermenting in bowels
Hot flatus or semen; cold urine
Isolated coughing attacks, then sneezing; as if from spine; easy expectoration of flocculi or balls of mucus
Indistinct, jerky speech
Palpitation during coition; depressed afterward
Premature ejaculation
Pressure or burning sticking from heart to left scapula
Angina pectoris, has excessive pain only
Metastases from suppressed milk
Single vertebra sensitive to heat
Spine sensitive, better pressure or touch; shooting, burning along; seems short (Sulphur Sul---- ), worse stooping; stiff
Restless arms
BURNING-ITCHING (Ap---- ), worse IN SKIN; AS IF FROZEN; changing place on scratching
Skin pains when cold
Chilblains
Yawning; before pains or spasms; as a concomitant
Chills or sweats easily
Sweats on alternate sides
Night sweats
Itching, over affected part
Cold buttocks
Region
SPINAL AXIS OCCIPUT
NERVES
Lumbar region
Peristalsis
Heart
Circulation
Respiration
Chest
≡ more ...