Amanita, Toad Stool, Bug Agaric, Agaric, Amanita Muscaria, Agar.
HPUS
indication of Agaricus Muscarius:
Numbness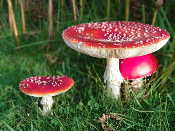 Have you ever used Agaricus Muscarius? Yes No


< < Agaricus Muscarius- main page

Below are the main rubriks (i.e strongest indications or symptoms) of Agaricus Muscarius in traditional homeopathic usage, not approved by the FDA.
GENERAL
General
Amanita muscaria. Agaricus Muscarius Agaricus muscarius. Fly Agaric. Bug Agaric. Champignon fou. (Europe, Asia, and America; in dry places, especially in dry pine woods.) N. O. Fungi. Trituration of the carefully dried-up cap (pileus).
or tincture of the fresh fungus.
As Agaricus Muscarius Agaricus is used in many parts for making an intoxicating drink, we find in alcoholism a sphere for its action, and also in all states of delirium, mania, and even idiocy. A peculiarity of the delirium is to make verses and prophesy.
also silly merriness, and incoherent talk, with mania.
kisses companions. Talcott considers Agaric. gives the nearest approach to general paralysis of all remedies.
exalted notions of grandeur and power, hilarity, and excitement followed by depression, confusion, imbecility. Accompanying bodily symptoms are vertigo (marked and persistent), with constant impulse to fall backward.
twitching about eyes and face, redness without heat, puffy and distorted. Ravenous appetite, with bolting of food. Sexual appetite enormous and enthusiastic, with relaxed penis and impotence. Throughout the body there are spasmodic twitchings, followed by waning tremulousness.
and Agaricus Muscarius Agaricus has cured many cases of blepharospasm and tic convulsif. Pain as if touched or pierced by needles of ice is very characteristic. Belonging to a low order of vegetation Agar. produces fetidity of breath, eructations, and stools. Sweat may be oily but is not offensive. Agar. is a spleen medicine, causing stitch in the side, and it has cured stitch in runners, enabling them to run further. The symptoms of Agaricus Muscarius Agaricus are apt to appear at the same time on opposite sides of the body but diagonally (right upper and left lower, or vice versâ). The nervous patients requiring Agar. pass little urine (opp. Ignatia Ign.), though the bladder may be irritable. Mushrooms are among the articles of diet forbidden by Grauvogl to persons having the "hydrogenoid constitution," as described by him, in which the patients are exceedingly sensitive to cold and damp. Agreebly with this we find in the provings of Agaricus Muscarius Agaricus great sensitiveness to cold air. All symptoms are agg. in cold weather, especially headache. Looking out of an open window causes toothache and pains in the limbs. Drinking cold water agg. Symptoms are agg. before a thunderstorm. At the same time many symptoms of intense coldness are produced cold and blue.
sensations as if touched with ice, or ice-cold needles. All the symptoms of frostbite and chilblains (itching, redness, and burning). Somewhat allied to chilblains is bunion, for which Agar. has been found specific by many practitioners. Many symptoms appear when walking in the open air.
this is a very general and characteristic aggravation. On the other hand, all symptoms are agg. indoors and at rest, except vertigo, which may be either agg. or amel. in a room. Conversely to sensitiveness to cold there is sensitiveness to the rays of the sun, and sunstroke is within the curative range of Agaric. agg. After moving, and by pressure from without.