Amanita, Toad Stool, Bug Agaric, Agaric, Amanita Muscaria, Agar.
HPUS
indication of Agaricus Muscarius:
Numbness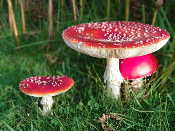 Have you ever used Agaricus Muscarius? Yes No


< < Agaricus Muscarius- main page

Below are the main rubriks (i.e strongest indications or symptoms) of Agaricus Muscarius in traditional homeopathic usage, not approved by the FDA.
GENERAL
General
(Toad-stool.) .
Agaricus Muscarius Agaricus appears for the first time in this second edition, but Hahnemann acknowledges that his fellow observers and the himself also had already published their observations -Hahnemann with his son and Langhammer in Vol. IX., Apelt in Vol. X., of the Archiv.
Gross SchréTerebinthina ter and Stapf in the Prakt. Mitth. d. cen. Gesell. hom. Aertze for 1828, Ng., Seidel, Sch., and Woost in Hartlaub and Trink's Arzneimittellehre, Vol. III, 1831. Apelt proved a tincture of the fresh fungus, beginning with six to eight drops of the tincture and going on to the twelfth and thirtieth potencies.
he gives his symptoms in schema form only, and does not indicate how each one was obtained. Of the doses taken by Gross we have no record, and the same may be said of the remaining observers.
but from the dates of their publications it may fairly be inferred that their provings were made after the earlier rather than the later manner. For the same reasons Hahnemann's own symptoms -to which no addition has here been made- may be accounted as derived from provings on the healthy and not from observations on the sick. Triturations of the dried fungus seem to have been used by all but Apelt. (Concerning Ng. see note on preface to Alumina Alumina.)
.
Agaricus Muscarius Agaricus is the fetid toad-stool with scarlet-red top, which is studded with whitish warts and has a white border. Of the toad-stool carefully dried take one grain, or two grains of the fresh plant, and triturate it like any of the other medicines with sugar of milk for three hours.
this preparation is afterwards dissolved, attenuated and potentized by two successive strokes for every potency until we reach the thirtieth potency (or x).
.
found it useful in pains of the upper jaw-bone and of the teeth, as well as in pains of the bones of the lower limbs (seemingly in the marrow) and finally in itching eruptions as large as millet seeds, set closely together; as also in lassitude following coition.
cured with it convulsions and trembling, and cured with it even several varieties of epilepsy.
saw the effect of Agaricus Muscarius Agaricus in large does extend for seven or eight weeks. Camphora Camphor is the chief antidote in ailments due to toad-stool even when they become chronic.
With respect to the symptoms of other contributors, I have sometimes found it necessary for the convenience of my readers to abbreviate phrases unnecessarily extended, sometimes also to substitute more intelligible expressions in the place of obscure or idiomatic ones. I have not knowingly omitted anything essential.
Agaricus Muscarius Agaricus MUSCARIUS.
129. This symptom with 5, 327, 506, 582, 692, 694 and 708 on a second application occurred in a patient affected with involuntary twitching of the right eyelid, for which he held to the open eye for a few moments a vial of the thirthieth dilution.
* * * * *
See note to symptom 129. These pimples only lasted an hour.
As in symptom 506.
627, 628, from the 12th and 30th potency, respectively.
See to symptom 129, with sleepiness.
See note to symptom 129, followed by symptom 708.
See note to symptom 129, profuse and oily, not offensive, preceded by sympt. 694.