Amanita, Toad Stool, Bug Agaric, Agaric, Amanita Muscaria Agar.
HPUS
indication of Agaricus Muscarius:
Numbness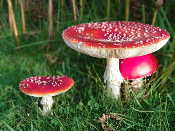 Below are the main rubriks (i.e strongest indications or symptoms) of Agaricus Muscarius in traditional homeopathic usage, not reviewed by the FDA.
< < Agaricus Muscarius- main page
GENERALITIES
Sleep and dreams
Paroxysms of yawning
Restless from violent itching and burning
On falling asleep, Starts, twitches, and awakens often
Vivid dreams
Drowsy in daytime
Yawning, followed by involuntary laughter.
≡ more ...