Amanita, Toad Stool, Bug Agaric, Agaric, Amanita Muscaria, Agar.
HPUS
indication of Agaricus Muscarius:
Numbness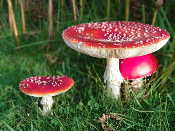 Have you ever used Agaricus Muscarius? Yes No


< < Agaricus Muscarius- main page

Below are the main rubriks (i.e strongest indications or symptoms) of Agaricus Muscarius in traditional homeopathic usage, not approved by the FDA.
GENERALITIES
Sleep
Desire to sleep in the day, particularly after a meal.
Violent yawning, followed by dizziness.
In the morning, a sense of dizziness, and great difficulty in rising.
As a rule sleeps badly and unrefreshingly.
Convulsions
Convulsions.
Generalities
Painful cramps in the muscles when seated.
Sensation of tearing in the limbs, principally during repose, whether seated or standing, and which disappears on movement.
Twitchings in the eyeballs, eyelids, cheeks, posteriorly in the chest, in the abdomen.
Symptoms which exhibit themselves transversely (for instance, in the r. arm and in the l. leg), amel. by walking slowly.
Great sensibility in the whole body; the softest pressure produces continued pains.
Pains, as from a bruise in the limbs and in all the joints, after even moderate exercise.
Soreness and sensation of rawness (nose and mouth).
Piercing pains in different parts of the body, chiefly in the head, with desire for sleep, and faintness when seated.
Tearing pains (face, legs) continuous while at rest, disappearing While moving about.
Great weakness and heaviness in all the limbs.
Trembling.
Epileptic fits.
Epilepsy (with great exertions of strength).
Great sensibility to cool air.
Great sensitiveness of the body to pressure and cold air.
≡ more ...