Amanita, Toad Stool, Bug Agaric, Agaric, Amanita Muscaria, Agar.
HPUS
indication of Agaricus Muscarius:
Numbness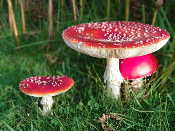 Below are the main rubriks (i.e strongest indications or symptoms) of Agaricus Muscarius in traditional homeopathic usage, not approved by the FDA.


Have you ever used Agaricus Muscarius? Yes No


< < Agaricus Muscarius- main page
GENERALITIES
Sleep and dreams
After a short, brisk walk, great weariness.
When ascending a little eminence, he feels faint, with copious perspiration.
In bed, he knows not what position to take, for sheer weariness.
In the morning, weariness.
Frequent yawning.
Yawning, stretching and extending the limbs (aft. 1 h.).
Frequent yawning, as if he had not done sleeping (aft. 7 ½ h.).
Frequently repeated yawning, so violent as to make him giddy, in the morning, while walking, in the open air (at once).
Frequent yawning with sleepiness, so that he can hardly keep from falling asleep; in the forenoon.
Sleepy and tired, the whole day.
Irresistible sleepiness, compelling him to lie down.
Sleepiness with heaviness of the head (at once).
Sleepiness, at once in the morning, one hour after rising.
In the forenoon, while reading, he could not keep from going to sleep.
After dinner irresistible sleepiness.
Despite of great sleepiness in the forenoon, he cannot go to sleep.
With great and tired somnolence, he could not sleep during the day on account of the abundance of ideas.
After dinner sleep oppressed his eyes, and yet the pain and uneasiness in his legs would not allow him to go to sleep.
So sleepy at 8 o'clock in the evening that he had to go to bed, while a peculiar apprehension that some one might disturb him did not allow him to go to sleep for a whole hour, after which he slept almost till morning.
When he went to bed in the evening, being very sleepy, he yet could not go to sleep on account of uneasiness in his body and weariness in his legs; so again later, after having been waked up by a dream.
After a good sleep, he yet was not refreshed, and rose without desiring to do so.
He had to compel himself to rise in the morning.
After a two hours' nap after dinner, he could not become wide awake.
Uneasy sleep (the 1st-3d nights).
Uneasy sleep, broken by awaking several times.
Frequent waking up at night (on 5th d.).
He often awakes at night, becomes wide awake, but falls asleep again after a while.
Frequently waking up at night, as if he had done sleeping.
Frequent, anxious awaking at night.
Waking up at night, with violent urging to urinate, with copious micturition (aft. 19 h.).
She is waked up soon after going to sleep by a spasmodic cough lasting 10 minutes, with a painful tickling in the larynx and down the throat.
He wakes up in the night from a feeling of coldness in the whole of the left leg.
Light sleep with many dreams and ever changing images.
Sleep interrupted by anxious dreams.
Internal disquiet in bad dreams which he cannot recollect, without any movement of the body; on awaking all unrest had disappeared.
Frequent awaking through vexatious dreams.
Dreams of a disagreeable nature often wake him at night from sleep.
Vivid dreams partly pleasant, partly disagreeable.
≡ more ...