Amanita, Toad Stool, Bug Agaric, Agaric, Amanita Muscaria, Agar.
HPUS
indication of Agaricus Muscarius:
Numbness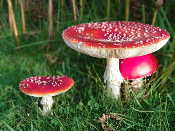 Have you ever used Agaricus Muscarius? Yes No


< < Agaricus Muscarius- main page

Below are the main rubriks (i.e strongest indications or symptoms) of Agaricus Muscarius in traditional homeopathic usage, not approved by the FDA.
GENERALITIES
Sleep
Frequent yawning; before spasms, or paroxysms of headache.
Unusual sleepiness.
Uneasy, restless sleep, from violent itching and burning of the skin.
On falling asleep; starts, twitches; sudden complete awaking.
Awakes often at night, is wide awake.
Nausea and vomiting
Eructations taste of rotten eggs or of apples; empty.
Nausea, vomiting.
Eating and drinking
Better for an hour after eating, while he is so exhausted; but great sleepiness remains.
After meat, heartburn.
Tissues
Makes the blood thin.
Veins swollen, with cool skin.
Muscles feel bruised from touch; better from walking.
Pains in long bones, as if bruised after motion.
Pains in bones morning and forenoon, especially left tibia, condyle of left elbow (like syphilitic pains, but better rather than worse in warmth of bed).
Joints feel as if dislocated.
Obesity.
Contact, Injuries, etc.
Body sensitive to touch or pressure; burning in canthi; pain in spine, between vertebrae, muscles feel bruised; pricking in left thumb.
Worse from touch 5, 31. After scratching 4.
Slight blows cause ecchymoses.
Sensations
Burning itching and redness of various parts ears, nose, face, upper and lower limbs, like chilblains.
Pricking as from pains, burning.
Sensation in various parts, as if ice touched or as if ice-cold needles were piercing the skin.
Corrosive biting now and then on the skin.
Formication, crawling.
Cramp-like pain in muscles, erratic, when sitting.
Nerves
Debility after coitus.
Tremor of whole body.
Paralysis of lower limbs, with slight spasms of arms.
Spasmodic motions, from simple involuntary motions and jerks of single muscles, to a dancing of the whole body.
Twitching of eyelids and eyeballs; trembling of legs and hands, debility; soreness of spine; worse at approach of thunder-storm.
Involuntary movements while awake; ceasing during sleep.
Coma following the febrile excitement of dentition; eyes half open, showing the white; breathing not hurried, but often a deep inspiration, followed by a sigh and slight convulsive twitching of extremities.
Cramps in the hands and feet; body convulsed, as if a galvanic battery were applied to the spine.
Temperature and weather
Very sensitive to cold air.
Chilblains, frost-bite.
Approach of thunder-storm 36. Cold air 10. Open air 1, 31, 40. In warm bed 44.
Chill, Fever and Sweat.
Great chilliness in the open air, strikes through the whole body.
Chilly on slight movement, or from raising the bed clothes.
Shiverings over the body, running from above down wards.
Heat slight, chiefly on upper part of body.
Sweat greasy, but not offensive, all night, during sleep; from slight exertion; often only on front of body; at night, especially about legs; cold, on face, neck, chest.
Sides.
Symptoms often appear diagonally (right arm, left leg, etc.).
Right 3, 4, 10, 28, 33. Left 3, 5, 11, 18, 29, 32, 33, 44.
≡ more ...