Amanita, Toad Stool, Bug Agaric, Agaric, Amanita Muscaria, Agar.
HPUS
indication of Agaricus Muscarius:
Numbness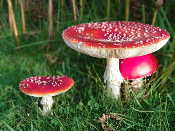 Have you ever used Agaricus Muscarius? Yes No


< < Agaricus Muscarius- main page

Below are the main rubriks (i.e strongest indications or symptoms) of Agaricus Muscarius in traditional homeopathic usage, not approved by the FDA.
GENERALITIES
Female
Those slender, nervous, restless women with tingling and creeping, must have Agaricus Muscarius Agaricus
Convulsions
with twitching and early fainting, nervous girls prior to puberty who have convulsions from being scolded, from excitement and shock; late in mental development.
Children
are late in learning to talk and walk, thus combining the features of two remedies, Nat Mur Natrum muriaticum, which has the symptom "late learning to talk," and Calc Carb Calcarea carb., which has the symptom "late learning to walk."
who cannot remember, make mistakes and are slow in learning. Nervous patients who on going over their manuscripts find out their mistakes in writing and spelling.
≡ more ...